Vet Nurses and other support staff
Locum Vet Nursing Positions
---
Merewether Veterinary Hospital, Newcastle (posted 30th May) Part Time Vet Nurse Parental Leave Cover 6 months
Part Time Veterinary Nurse, 6-month Maternity Leave Position
Job Title: Vet Nurse
Location: Merewether, Newcastle, NSW
Type of work:100% Small Animal
Hours: Part time
After Hours: None
Remuneration: Negotiable
Merewether Veterinary Hospital is a busy, small-animal practice in the coastal suburb of Merewether, in the city of Newcastle.
We are looking for an experienced veterinary nurse to join our team for a 6-month maternity leave position commencing early September. There is the possibility of on-going part-time work after this period. At least two years' experience is preferred, but other applications will be considered and are welcome.
Our hospital is well-equipped with digital Xray, dental Xray, ultrasound, Surgivet monitor, ECG and is computerised with RXWorks.  Our four experienced vets and team of dedicated nurses take great pride in providing excellent patient care and a high level of service to our clients. Our workplace is busy and happy, and most of our team has been with us for 5 to 10 years.
To apply for this position, please email your application to Drs Karen Catchpole, Chris Holland and Felicity Cole at admin@merevets.com.au or post to MVH, 192 Glebe Rd, The Junction, 2291.
Closing date is 21st June 2019
Please also direct any enquires to the email address above.
See our website https://merewethervets.com.au/
---
Elgar Road Veterinary Hospital, Box Hill North, VIC (posted 28th May) Part Time Locum Vet Nurse, Mid July - Early October
Elgar Road Vet Hospital is looking for an experienced locum vet nurse to help us out whilst our regular nurses are on holidays.
We are a busy, small animal clinic in Box Hill North, Victoria.
The position will be part time, with varying hours, for a 2-3 month period from mid July to early October.
Experience in all areas of the clinic is essential, including confidence in surgical monitoring. There may be some weekend work required.
Please forward your CV with references to admin@elgarvet.com.au
Feel free to check out our website Elgar Rd Vet and our Facebook page
---
Heidelberg Veterinary Clinic, Heidelberg VIC (posted 27th May) Locum Vet Nurse 2nd to 20th September
Heidelberg Veterinary Clinic is looking for an experienced Locum Vet Nurse to work at our clinic for 3 weeks – Starting on Monday 2nd September to Friday 20th September 2019.

Shifts will be:
11:00am-7:00pm on Monday, Thursday and Friday and 8:30am-2:00pm on Tuesday and Wednesday.
(Approx. 35 Hours per week).
Experience with RX Works is essential.
Please email Applications to;
Practice Manager
info@heidelbergvet.com.au
See our website http://www.heidelbergvet.com.au/
---
The Vet Group Wollaston, Warrnambool, VIC (posted 13th May) Full Tme Locum Vet Nurse Starting ASAP for 3 Months
Locum Veterinary Nurse – Warrnambool
Immediate start
The Company
The Vet Group is a leading provider of integrated animal health solutions in Australia, applying the latest science from around the globe and from the world's most progressive universities, for the benefit of the local communities it serves. Operating out of four locations, our dynamic team services a diverse client base across South West Victoria. The Vet Group is looking to bring on and develop top talent. This is a career building opportunity for an experienced candidate seeking progression.
The Role
The Vet Group is seeking an experienced Veterinary Nurse to join the dynamic team at our busy and well equipped Wollaston Clinic in Warrnambool. The position is responsible for performing all aspects of animal care and vet nursing, including medical care, surgical nursing, assisting in consultations, reception and cleaning.
This is a 3 month locum position working 38 ordinary time hours over a 4-day week. Some Saturday morning work and after hours On-Call duties are also required.
*Please note that we are also prepared to consider applications for this position on a permanent employment basis.
The person we are looking for
As well as demonstrating a passion for providing the highest standards of small animal veterinary care, the successful applicant would ideally possess:

Certificate IV in Veterinary Nursing and 2 or more years of experience;

Outstanding customer service skills;

Highly developed written and verbal communication;

Strong client relationship building capabilities; and

The ability work effectively as part of a dynamic and flexible team.
What are we offering

A fantastic opportunity to join a well established and leading provider of integrated animal health solutions in Australia

Outstanding team culture where staff produce results

Access to personal development plans and opportunity to career progression
To find out more about The Vet Group please visit our website at www.thevetgroup.com.au
How to apply
Does this sound like the job for you? To apply please email your cover letter and resume to hr@thevetgroup.com.au.
---
Noosa District Animal Hospital, Sunshine Coast, QLD (posted 7th May) Maternity Cover 6 Months
FIXED TERM – VETERINARY NURSE - NOOSA
Who are we?
At Noosa District Animal Hospital, we understand that beloved pets are more than an animal living in a home. It is a part of the family, a best friend and an extension of who we are!
Established in July 2008, Noosa District Animal Hospital is the only purpose-built veterinary hospital servicing the Noosa area and greater region. Together with our sister clinic, Peregian Springs Veterinary Surgery in Peregian Springs, our focus is offering an exceptional level of care, treating beloved pets like they are our own. Our passion for animals is what drives our practice. Our team works together to build strong relationships with clients, offering the very best in terms of quality, convenience and animal care.
The 411 
Our passionate and dedicated clinic is looking for a full time Qualified Veterinary Nurse to join our dynamic team in a six-month, fixed term maternity cover role. Working 38 hours per week, the right candidate will have a commitment and passion for high level patient and client care and the desire to provide outstanding customer service.
What we are looking for:
A minimum of 2 years' clinical nursing experience with appropriate Certificate IV qualifications
Positivity and drive with a focus on excellent patient and client care
Exceptional customer service skills and communicator
Effective time management and organisation skills
Calm and orderly under pressure and ability to take direction during emergencies
The ability to work efficiently, both independently and as part of a team
Excellent written and verbal communication skills
Demonstrated client relationship building skills
A hard working and a hands-on approach to your work
What we are offering:
Hands on nursing; our nurses take bloods, place catheters, perform pathology, x-rays, dental scale and polish and assist in ultrasounds, endoscopes and orthopaedic procedures on a daily basis
Access to NVC's Veterinary Training Centre
Flexibility and adventure with the possibility of working across any one of our NVC clinics in Australia or New Zealand if you so desire
Access to one of the strongest networks of veterinary professionals
A positive and fun, hardworking team
For further information, please visit: https://noosaanimalhospital.com.au/
About Us:
Our clinic is part of National Veterinary Care (NVC) a group of over 90 clinics located across Australia and New Zealand.
What makes us different?
National Veterinary Care believes that if we put our people first, the results will follow. We achieve this through having a highly qualified Veterinary Surgeon as our General Manager – Vet Services, who keeps our clinical standards at the forefront of business decisions. We achieve it through our Veterinary Training Centres – industry firsts where we offer practical CPD in everything from behaviour through to orthopaedic surgery – so that you have the skills and confidence to care for every pet who comes through your clinic doors. Click here to see more! https://nvcltd.com.au/Veterinary-Training-Centre/
What is it like to work for NVC?
Let our staff tell you themselves!
'Since coming to work for NVC, my whole outlook on my job, career and ultimately my life has substantially improved. I love that the ethics at NVC is to invest in people, treat them well and show them that they are valued. I have certainly felt that.' – Louise Parry, Lead Veterinarian, Everton Park Veterinary Surgery
'Yesterday afternoon we did a stitch up on a dog's ear. The case was referred to us by another vet group who had vets available but refused to see the case. I believe this would never happen at NVC because of the great culture that our CEO has worked hard to infuse through NVC and which I hope we never lose'. – Peter Elliott, Lead Veterinarian, Vetcall Ashmore
Watch our video to find out more https://nvcltd.com.au/careers/
Sounds great! How do I apply?
If you are interested in joining a passionate team with challenging and rewarding cases, please apply now by following the link: https://applynow.net.au/jobs/NVC615-veterinary-nurse
---
Marmion Vet Centre, Northern Perth, WA (posted 6th May) Head Vet Nurse, Permanent & Locum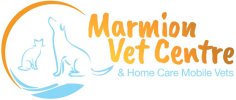 SENIOR VET NURSE: Locum and Permanent job opportunity - Perth Northern Coastal Suburbs.
Marmion Vet Centre is a friendly, small animal clinic located in the Northern coastal suburbs of Perth, 500m from the beach.
We offer consultation and surgery 5 days/week as well as consultations on Saturday mornings.

We offer home visits and veterinary acupuncture.

We pride ourselves on our close-knit team and close relationships with our clients.

Being a small business we prioritise exceptional quality of care and customer service over quantity of appointments.

We are a vegan friendly working environment
We are seeking an experienced vet nurse with at least 5 years of fully qualified nursing experience.
We are currently looking for a nurse to begin locum work starting from the end of May, with the potential to join the team permanently.
KEY SKILLS:

5 years of nursing experience post qualification

Have excellent customer service skills

Have a positive, can do attitude

Exceptional telephone manner

Good organisation skills

Have a current driver's license with own transport
If you think you have what we are looking for, and are excited by the opportunity to work in an easy-going beach side clinic, please email a copy of your cover letter and resume to:
Dr Fiona
Head Vet and Clinic Owner
marmionvetcentre@bigpond.com

For more information, see www.marmionvetcentre.com.au. Also check out

---
---
Kookaburra Veterinary Employment reserves the right to edit or omit any advertisement at our discretion. We take no responsibility for the accuracy of any advertisement shown and will not be liable for any damages of any kind arising under any circumstances.